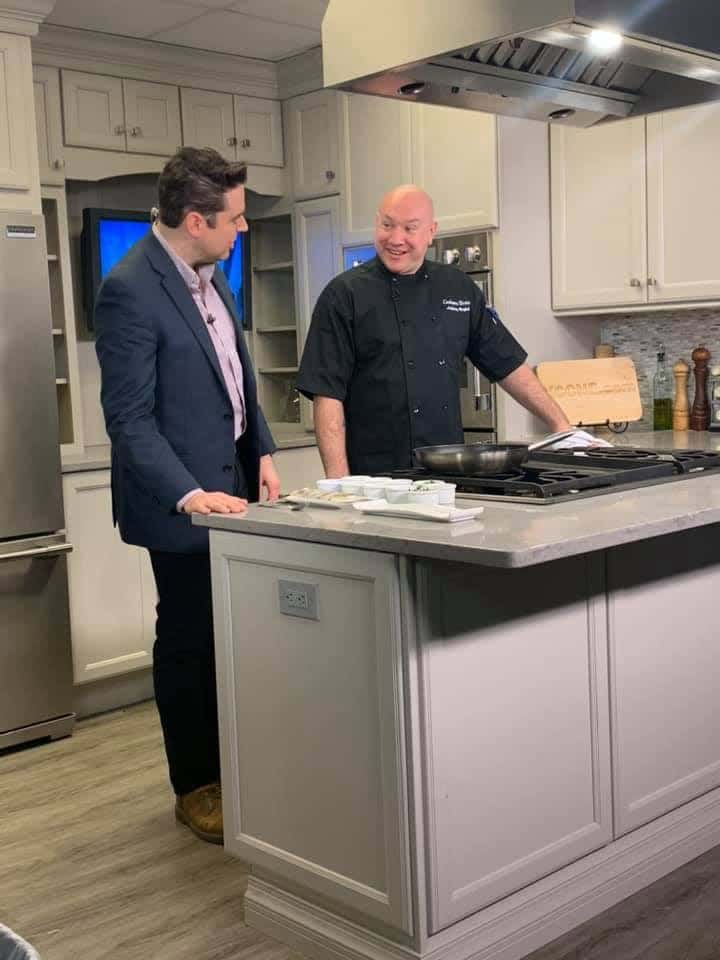 Chatting With Chef Anthony
Chatting With Chef Anthony
Creating Cashmere Bistro & Tavern has been an exhilarating experience for everyone involved.
But Executive Chef Anthony Rayhall may have been in one of the more frustrating positions. He spent months rehabbing the kitchen, designing (and re-designing) menus, and tirelessly talking about his vision for the Cashmere menu and brand.
Yet, for a while, he didn't have the chance to prepare or serve anything to those who were listening and trying to imagine what he would bring to the table.
The management team was put together just a couple weeks before our soft opening (when we served family and friends of employees) and we spent the majority of our time cramped in the office just off the kitchen.
So when the time came to finally order from our food vendors, Chef Anthony immediately fired up his kitchen equipment and began to prep.
When he wasn't busy taking inventory, cleaning produce, processing vegetables, or planning out the mise-en-place for each station, he was almost always just around a corner ready to push a spoon in one of our faces:
"Try this!"
And we would.
Now that we're finally open and operational, I took a breath and cornered Chef to ask him some questions.
So how'd you get into this business, into the life of cheffing?
My mom was the catering director for Eastern Connecticut State University and I started off as a server for her.
One day, I challenged the chef that I could make salads faster than his salad guy could. I was literally told if I could do it I'd get the job, but if I couldn't I'd lose both.
Me being 13 and cocky, I put up 20 salads in 8 minutes and sat back with my arms crossed.
He said, "You're a cocky, arrogant bastard. You got the job."
This is a huge opportunity, creating a new restaurant and building a fresh experience for locals. Tell me about your vision for the Cashmere menu and brand.
The way I was describing Cashmere to my friends, my family, and other coworkers is that it's a place you can bring your family and friends to dine that isn't Italian. When we think of pairing dining with a sense of community, it's always Italian cuisine that comes to mind.
What does it mean to you, personally?
It's been very scary, because not knowing what the future holds is scary; not knowing if the staff will leave or who will stick around — but it has been very rewarding seeing it come together. Seeing people wowed and giving great feedback has been awesome and almost unbelievable.
Darin (General Manager) has really pushed me to learn the back-ends of things like breaking the menu down to cost — and him pushing me to do that has made me a better chef, a better manager, and a better teacher.
What's your favorite dish to cook?
Gin and ginger shrimp — the way I did it on The Rhode Show.
I kept playing with ingredients I had and I came up with this because it just popped. My dad kept pushing me to develop the flavors. And then when I first put it on a menu, we couldn't keep up with the orders.
The flavor profile has since been enhanced even more, but it's been an 8-year process. When I first started, it wasn't reaching the parts of the palate that it does now. Now, it's a real winner and I take a lot of pride in its preparation.
What's your favorite dish to eat?
The bacon jam filet. It brings me back.
Take me back with you.
So, I'm working at a country club and I'm just playing with flavors. I'm playing with garlic, onions, I added ketchup, I added brown sugar, and I thought, "This would go really well on a steak." So I said let's make a deconstructed bacon-wrapped filet. The Chef said it would never sell. Then we sold 55 the first night and we sold 76 the second night.
We put it on the menu and every night people were getting that bacon jam filet. It's amazing to see how it's evolved, and eating it reminds me of how being playful with ingredients can lead to some great things.
Tell me about your most memorable dining experience.
We were out to dinner with my dad. We were 7 or 8 years old and it was the worst experience. The poor waitress — I felt so bad for her. She came around and accidentally spilled a full ramekin of blue cheese dressing on my dad's pant leg, and he let her have it. She started to cry and I clearly remember him saying to her that she "doesn't belong serving anymore." He made the poor girl cry.
My family knew the owners of the restaurant and they came by and asked what was wrong and why he made her cry. And he said she "should have known better." We were there every Friday night and we always had her, so it felt personal.
But by the end of the night, when the bill came, she got a very good tip. My dad wasn't trying to be an asshole, he just wanted her to do her job properly.
I felt bad for the waitress because we all knew, we all could feel his presence change. But at the same time she should have known not to over-stack her hands like that.
That's a rough story. A great example of what a good dining experience definitely isn't — for anyone involved.
Right. But on a positive note, I had a great dining experience right here in Providence. So, I was 19 at Johnson and Wales University and I took my boyfriend out to a well-known steak house. Now, legally in the state of RI, I was unable to purchase a bottle of wine for the table. But they didn't card me! I just told them it was a date night. So I was able to "wow" my boyfriend with a great date night. I don't know how I got away with it. I thought that was a nice score.
How do you think your dad would react to all of this?
If my dad was here and still alive, he would definitely drive the hour and a half every night to sit at the bar and get something to eat.
How do you measure your success?
I will never know if I've done a good job or if I've succeeded. I always second-guess myself. But I know I'll succeed one way or another, even if I fail I've done the thing the best I could.
But I know I'm doing the right thing when people are leaving here saying things like "We were wowed" or "I'm a food snob and this meal was knocked out of the park."
And they have said those things! I've actually heard guests use terms like "divine" and "hidden gem" as they head out of the restaurant after dinner. You should be proud.
So how has this experience been for you so far?
Seeing the brand come to life has been amazing. It's really hard to explain how I feel about it because I've literally helped build it from the ground-up. Seeing our visions come together and watching it flourish has been amazing and I can't wait to watch it grow.